U.S.S. Bang (SS-385)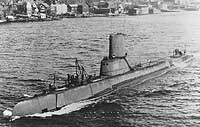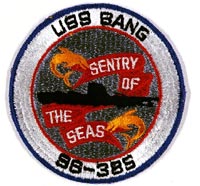 From The Bang Gang Newsletter - Fall/Winter 2009...
"...After Alex left, Bo Miller became CO, and we made the famous 4th of July trip to Eastport, Maine. The fog was so thick coming into the Bay of Fundy and Eastport that you couldn't see the bow from the bridge. We took aboard the "pilot" who was a lobster boatman, to get us up the 40 mile long, narrow passage from sea to Eastport. "We can't see anything, not a buoy, a lighthouse, a point of land, or anything. How do you know where we are?" asked Capt. Bob to the "pilot". He said: "Well, we lobstah boatmen just take a heading, and when the bow touches bottom, we turn the other way". (of course we had this thing, called a "Sonar Dome" up there where the bow hits the boulders). All Stop! Send "pilot" to the mess decks. Then Lamarr Seader, QM1 and our #1 Navigation Dude, suggested that if we detuned the radar, we could see the channel well enough to proceed. This was done, and we made it all the way, on the battery, to the Eastport pier in solid, you can't see squat, fog. The Eastport, Maine City Firemen who manned the pier were amazed to see a big black submarine emerge silently from the fog and slide into position against the 24 foot high pilings of their pier. I'm not sure a lot of other subs would have pulled off this very good maneuver. The tide runs +/- 21 feet at Eastport (wow) and the topside watch had to tend the mooring lines constantly to either stay close to the pier or avoid over-tensioning a line as the sea level dropped. One of the topside watch lost his .45 over the side while we were there, and someone else recovered it by diving into the 40 degree water. I can't remember their names - dang. The Bang crew was the best of many boats I've served on. There are other stories - How to judge an Eastport beauty contest without offending anyone or How to slide the XO down a 60 degree brow into the FTR for a four hour recharge."
Class: Balao-class diesel-electric Submarine
Displacement: 1,526 long tons surfaced, 2,391 long tons submerged
Builder: Portsmouth Naval Shipyard, Kittery, Maine
Length: 311 ft. 6 inches.
Beam: 27 ft. 3 inches.
Draft: 16 ft. 10 inches.
Propulsion: 4x Fairbanks-Morse Model 38D8-1/8 10-cylinder opposed piston diesel engines driving electrical generators.
2x 126-cell Sargo Batteries
4x high-speed Elliott electric motors with reduction gears, two propellars, 5400 shp surfaced, 2740 shp submerged.
Speed: 20.25 kn (37.50 km/h) surfaced
8.75 kn (16.21 km/h) submerged
Range: 11,000 nmi (20,000 km) @ 10 kn (19 km/h)
Endurance: 48 hours @ 2kn
Complement: 10 officers, 70-71 enlisted
Armament: 10x 21 inch torpedo tubes (six forward, four aft, 24 torpedoes, 1x 5 inch/25 caliber deck gun, Bofors 40mm and Oerlikon 20mm cannon.

from Department of the Navy - Naval Historical Center:
USS Bang, a 1526-ton Balao class submarine built at the Portsmouth Navy Yard, was commissioned in December 1943. She went to the Pacific in February 1944 to join the war against Japan, beginning the first of her six war patrols in March. This cruise, into the Luzon Strait area, produced the sinking of three enemy ships. Bang's second patrol was made in support of the June 1944 Saipan invasion and continued on to the Formosa area, where she attacked many Japanese ships but gained no confirmed sinkings. Her third and fourth combat patrols, off Japan and Formosa in August-September and October-December 1944, were productive, with a total of five ships falling to her torpedoes. Two final cruises, during January-February and March-May 1945, generated no sinkings, but did result in the rescue of a Navy aviator who had ditched at sea.
In May 1945 Bang was sent back to the East Coast for overhaul, which was followed by postwar operations in the Atlantic. She was decommissioned in February 1947 and remained in reserve until the Korean War crisis brought her back into commission in February 1951. During 1952 Bang received a "Guppy IIA" modernization that streamlined her appearance and greatly improved her underwater performance. Thereafter, the submarine continued operations and training work as part of the Atlantic Fleet, making occasional deployments to the Mediterranean Sea and northern European waters through the rest of the 1950s and during the 1960s. USS Bang was transferred to Spain at the beginning of October 1972, a loan that was converted to a sale in November 1974. As the Spanish Navy's Cosme Garcia, she had nearly another decade of active service before being stricken in June 1982.