U.S.S. Jason Dunham DDG-109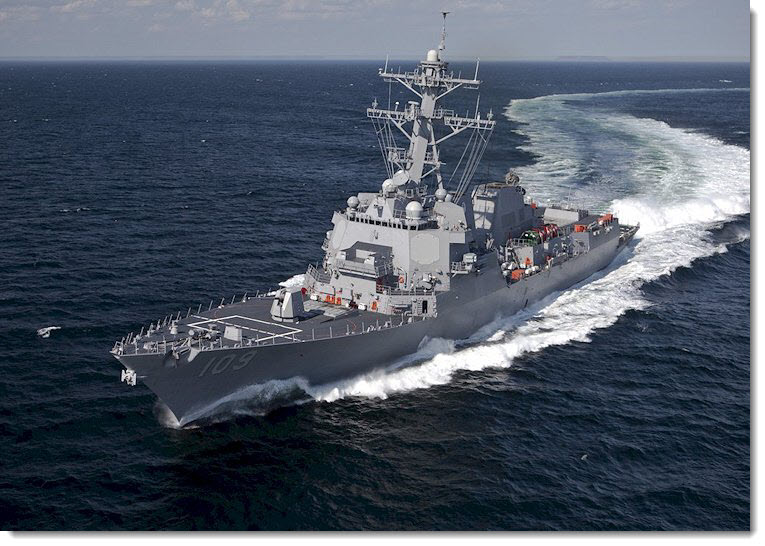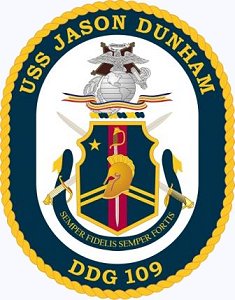 Class: Arleigh Burke-class Guided Missile Destroyer
Displacement: approx. 9,200 long tons
Dimensions: Length 510 ft.; Beam 66 ft.; Draft: 33 ft.
Armament: 1x32 cell, 1x64 cell, Mk 41 vertical launching systems with 90 × RIM-66 SM-2, BGM-109 Tomahawk or RUM-139 VL-ASROC missiles, 1x5 in (130 mm)/62, 2x25mm Mk38, 45x.50 cal (12.7mm) guns, 2 Mk46 triple torpedo tubes, 1x20mm Phalanx CIWS

Propulsion: four General Electric LM 2500-30 gas turbine engines.
Speed: 30 knot; Complement: 380 officers and enlisted.

The U.S.S. Jason Dunham is the 59th destroyer in her class and built by the Bath Iron Works in Bath, Maine. She was christened by Corporal Dunham's mother, Debra Dunham, and launched on 1 August 2009. Jason Dunham was commissioned on 13 November 2010 with Commander M. Scott Sciretta in command.
Keel Laid: April 11, 2008
Launched: August 1, 2009
Commissioned: November 13, 2010
Builder: Bath Iron Works, Bath, Maine

Home Port: Norfolk, VA.