DD-829 U.S.S. Myles C. Fox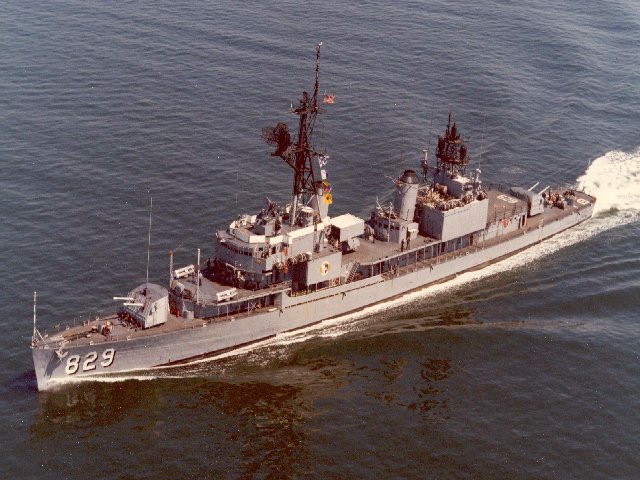 Class: 1945 GEARING CLASS DD
Complement: typical: 274 (14 officers, 260 enlisted) Complement-wartime, pre-FRAM: 345 (20 officers, 325 enlisted)
Displacement:(pre-FRAM): design 3,160; standard 2,425; full load 3,479
Dimensions: 390 ft.6 in. x 40 ft.10 in.
Mean Draft: 14 ft.4 in. Fuel Capacity: 196,000 gallons. Range: 5,800 miles at 15 knots.
Propulsion: Four Babcock and Wilcox 615 psi 850 deg.F superheated express type boilers supplying two sets of high pressure, low pressure and cruising turbines generating a total of 60,000 s.h.p. to two shafts each with a 12.5 foot four bladed propeller. Shaft rpm: 350 Speed at standard displacement: 34.5 knots.
Weapons: 1945-1952: three 5 inch 38 caliber twin gun mounts - five 40 millimeter gun mounts - ten 21 inch quintupled torpedo tubes.
1952 - 1962: Removed all five 40 mm mounts and replaced with 3" 50 Caliber guns.

1963 GEARING DD FRAM MARK 1 Weapons after Fleet Rehabilitation and Modernization: Two 5 inch 38 caliber twin gun mounts guided by a Mk37 director with Mk25 fire control radar linked by a Mk1a electromechanical analog computer stabilized by a Mk6 8,500 rpm gyro. -two triple tubes of 12.75 in. Mk 32 torpedoes - antisubmarine rocket launcher (ASROC), four double celled boxes housing 8 rocket-thrown torpedoes or nuclear depth charges and two drone antisubmarine helicopters (DASH) able to deliver two torpedoes up to 30 miles from the ship.
Radar, Electronics, Sonar after FRAM 1: - SPS 10 surface search radar - SPS 40 air search radar - SQS 23 long range sonar.
The Ship was commissioned on March 20, 1945 and was decommissioned on October 1, 1979.
Myles Crosby Fox
1st Lt, USMC
13 October 1918 - 8 August 1942
1st Lt. Myles Crosby Fox was born in NYC on 13 October 1918 and died 8 August 1942 of wounds received at Tulagi, Solomon Islands. Myles Fox graduated from Williams College, Williamstown, Massachusetts in 1939. There is an annual soccer award: "Myles Fox Trophy" that is awarded annually to the outstanding leader of the team. Lt. Fox served in the U.S. Marine Corps Reserve in an enlisted status from May 1939 to November 1940. On 29 November he accepted appointment as 2nd Lt. in the Marine Corps Reserve. On 18 November he accepted appointment to the Marine Corps and on 11 April 1942 was promoted to 1st Lt. Lt. Fox served in the field from 30 April 1942 until his death. 1st Lt. Fox was awarded the Purple Heart, American Defense Medal 1942, Presidential Unit Citation, and the Navy Cross for service set forth in the following citation:
For extraordinary heroism while attached to a Marine Raider Battalion during the seizure of Tulagi, Solomon Islands, on the night of 7-8 August 1942. When a hostile counter-attack threatened to penetrate the battalion line between two companies, 1st Lt. Fox, although mortally wounded, personally directed the deployment of personnel to cover the gap. As a result of great personal valor and skilled tactics, the enemy suffered heavy losses and their attack repulsed. 1st Lt. Fox, by his devotion to duty, upheld the highest traditions of the United States Naval Service. He gallantly gave his life in the defense of his country.