U.S.S. McFaul DDG-74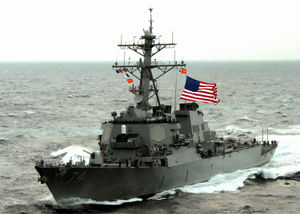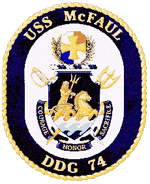 Class: Arleigh Burke-class Destroyer
Displacement: approx. 8,300 tons full load
Dimensions: Lenght 505.25 ft.; Beam 67 ft.; Draft: 30.5 ft.
Armament: Two MK 41 VLS for Standard missiles, Tomohawk, Harpoon missile launchers, one Mk 45 5-inch/54 caliber lightweight gun, two Phalanx CIWS, Mk 46 torpedoes (from two triple tube mounts).
Propulsion: four General Electric LM 2500 gas turbine engines.
Propellers: two Blades on each Propeller: five
Speed: 30+; Complement:Chief Petty Officers and 291 Enlisted.

The McFaul's AN/SQQ-89 integrated USW Suite is the most advanced anti-submarine warfare system in the world today. The AN/SQR-10 Tactical Towed Array Sonar (TACTAS) provides extremely long-range passive detection of enemy submarines.
Keel Laid: February 12, 1996
Launched: April 12, 1997
Commissioned: April 25, 1998
Builder: Ingalls Shipbuilding, West Bank, Pascagoula, Miss. Home Port: Norfolk, VA.