U.S.S. Stout DDG-55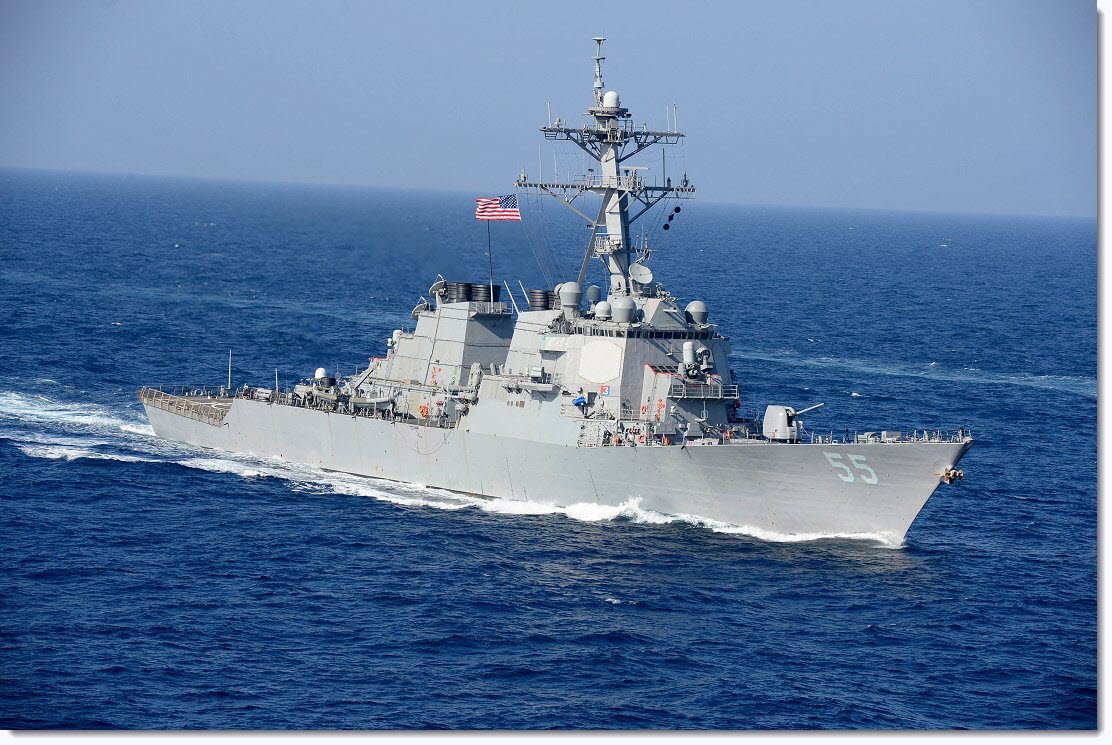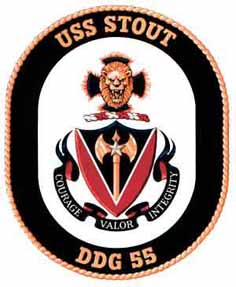 Class: Arleigh Burke-class Guided Missile Destroyer
Displacement: approx. 8,900 tons full load
Dimensions: Lenght 505 ft.; Beam 66 ft.; Draft: 31 ft.
Armament: 1x29 cell, 1x61 cell, Mk vertical launching systems with 90 × RIM-156 SM-2, BGM-109 Tomahawk or RUM-139 VL-ASROC missiles 2 x Mk 141 Harpoon Missile Launcher SSM 1 × Mark 45 5/54 in (127/54 mm) 2 × 25 mm chain gun 4 × .50 caliber (12.7 mm) guns 2 × 20 mm Phalanx CIWS 2 × Mk 32 triple torpedo tubes
Propulsion: four General Electric LM 2500-30 gas turbine engines.
Speed: 30 knot; Complement: 33 commissioned officers 38 chief petty officers 210 enlisted personnel

Stout is named for Rear Admiral Herald F. Stout (1903–1987), who distinguished himself as the Commanding Officer of the destroyer USS Claxton during World War II. In November 1943, Commander Stout received two Navy Crosses in the span of three weeks for his actions in the Pacific. Stout aided Destroyer Squadron 23 in sinking five heavily armed Japanese warships and damaging four others during the Solomon Islands campaign as well as sinking four more Japanese warships and damaging two others to establish a beachhead on Bougainville Island.
Keel Laid: August 8, 1991
Launched: October 16, 1992
Commissioned: August 13, 1994
Builder: Ingalls Shipbuilding Home Port: Norfolk, VA.